Digital Transformation: How Promoting Transparency Can Deliver Big Results
Recent trials by business community have revealed that digital transformations can be even harder than conventional changes to bring about. But, evidence from the companies getting their money's worth from digital advances point toward one factor for success: internal transparency.
IT spending, according to Gartner, a global research firm, will increase by 8.4% from 2020, reaching a total value of more than USD 4.1 trillion in 2021. As businesses across the spectrum place their trust in technology, the question is inevitable to arise – Will it be all worth it?
Technology no longer just supports business functions but is expected to fully participate in improving and leading business outcomes. Gartner says that digital initiatives will more frequently be charged as a cost of revenue or cost of goods sold. If digital transformations are to achieve this level of impact, introducing new devices and software will not be enough. What is required is empowering every level of organization with real-time information on IT spend and facilitating on-the-go adjustments in the budget. Transparency can be your key to beating the odds.
In our previous articles on digital transformation strategy, we have examined the business strategies for orchestrating technological makeover, what it means for returns in the digital age, and how a digital vision can overcome organizational barriers. In this post, we will look at how increasing visibility during transformation can improve results dramatically and achieve milestones early.
Table of Contents
The truth about digital transformation
For all the hype around digital transformation, its success rate remains elusive. To make an acute observation, researches across the board show a remarkably low likelihood of success.
Our earlier account of top business strategy trends found that at least 8 in 10 strategic developments in the future will focus on improving digital capabilities. However, the abysmal success rate of digital transformations remains a cause of concern. A global survey report from McKinsey depicts that at least 80% of organizations are undertaking digital transformation, but only a few have been able to get their investment's worth in business outcomes. According to Bain's latest findings, only 8% of the companies could reap returns on digital initiatives.
The payoff from technological transformation can be extraordinarily high, but the rate of success remains regrettably low.

What is it only 8% technology leaders do?
The business strategists and consultants often ask about the secret formula that technology leaders deploy. Unsurprisingly, there is no magic potion.
What they understand, perhaps a little bit better than anybody else, is digital transformation is really about business transformation. Most commonly, these 8% leaders approach transformation with three mindsets.
These mindsets can serve as the markers for others to improve their odds of successful digital initiatives.
I. Purpose Mindset: Transform, don't just sustain
What technology leaders don't do is venture blindly into the idea of digital transformation and try to spend their way to success; they rather spend less. What they do differently is investing more into new services and products and less in legacy systems. They make the transformation of business their priority, instead of keeping conventional systems running.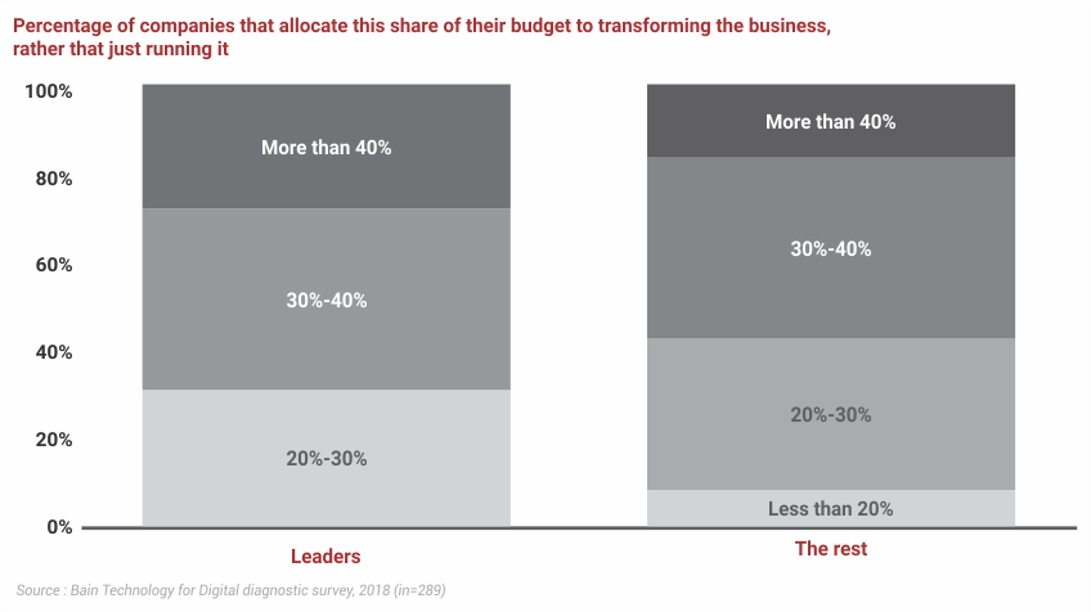 II. Investment Mindset: Spend on new architecture and new talent
Technology leaders prepare their people and systems on three fronts. They make their current teams agile, and at the same time modernize their architecture, and infuse or develop new talent. Digital leaders including Tesla, Amazon, and Capital One, all recognized this secret early on and designed their transformations so.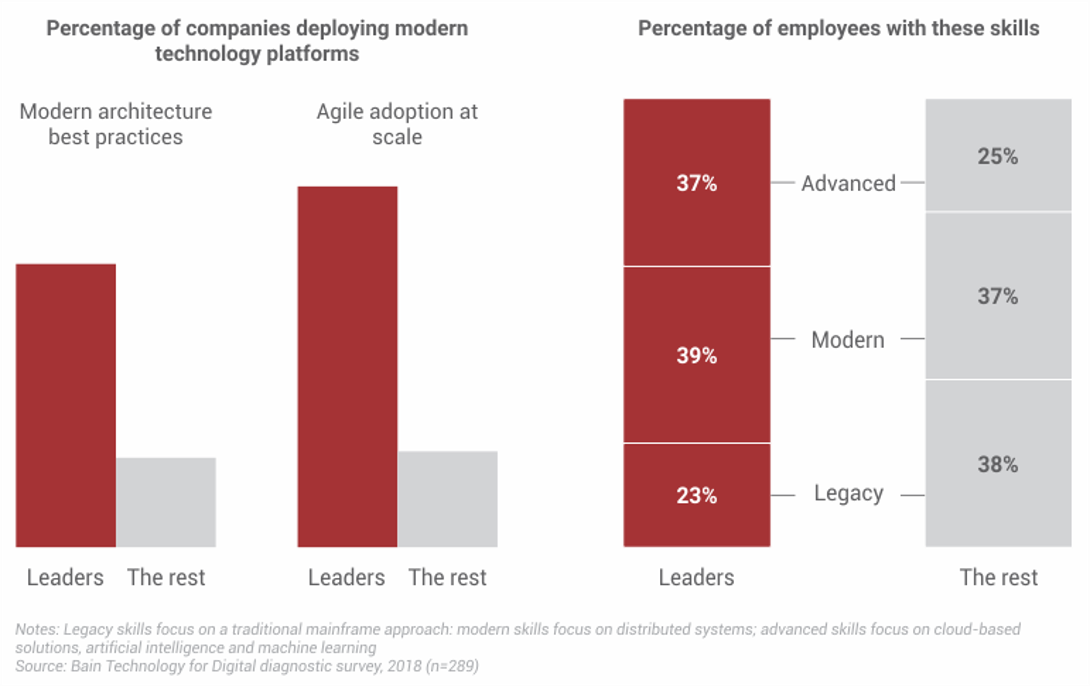 III. Transparency Mindset: Keep technology spending open to all
Technology leaders are 3.5 times more likely than the rest to say they keep full transparency over IT budgets and spending. They keep their IT spending available in real-time for all stakeholders. They are also transparent about the costs of these digital initiatives.
While the other two mindsets are relatively known for successful digital initiatives, transparency isn't much talked about but a very critical aspect. In the next sections, we explore why transparency benefits technology leaders, and how they achieve it.
Role of transparency in digital transformation
It's not by coincidence that technology leaders possess a deeper understanding of their IT budgets. They purposely make their technology investments more transparent in order to increase the returns.
By keeping a track of how their tech budgets are being spent, they are better positioned to redirect the spending to where it can create the most value.
For most companies, despite growing their technology budget annually, they are unable to achieve results. The reason is a lack of transparency. It leads to a loss of synergy across departments. For instance, most business strategists and finance executives are unable to fully decode their spending on technology, far less linking it to the products and services they led (see the figure below). Increased transparency leads to more accountability among divisions and makes decisions swifter.
Without getting a crystal view of where the money is going, you can't determine how it changes and whether it leads to any value for your business.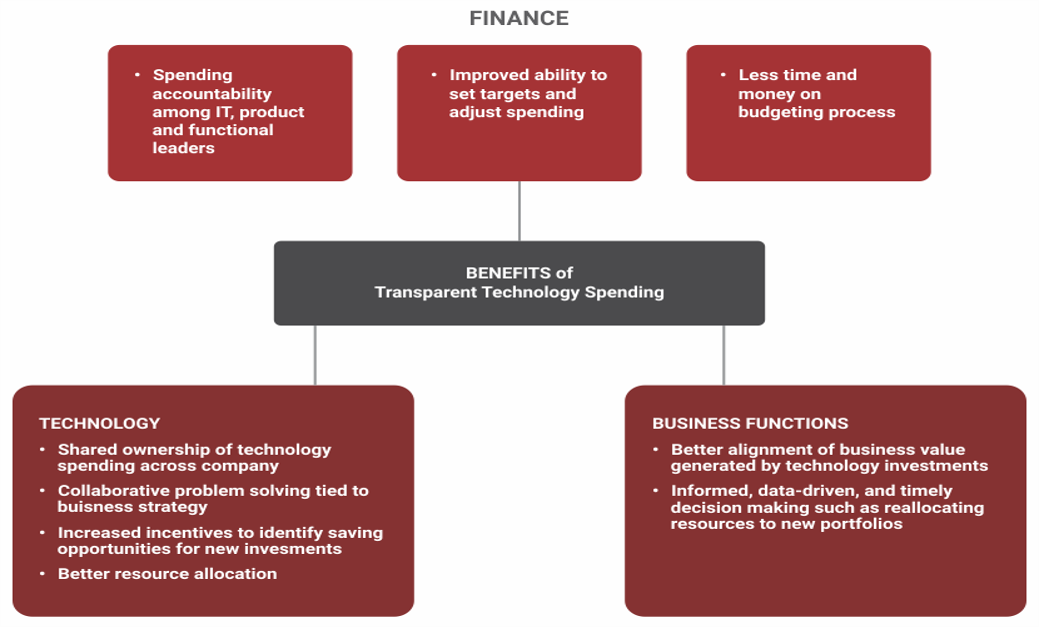 Optimize Your IT Spend: Three Keys for Bringing Transparency
Transparency, by its nature, breaks traditionally rigid structures, and leads people and companies to adopt new ways of communicating and adjust the idea of ownership. Leaders focus on three steps to bring transparency and optimize digital transformation.

Figure: 3-Step Transparency Strategy to Optimize Technology Spending
Source: Bain & Company
• Make real-time data on technology spending available to tech stakeholders.
Mind you, this data is not the monthly numbers on PowerPoint slides. Accurate data, preferably in real-time is provided to the executives to draw meaningful insights into their investments. This allows them to take timely decisions in case they need to reallocate their spending. IT financial management (ITFM) tools are used for this purpose, especially by mid-sized and large firms with rising tech expenditure.
• Create product dashboards instead of technology categories.
Conventionally tech spending was divided into categories such as software, telecom, hardware, labor, etc. This is a siloed view of operating and keeps business leaders in an unnecessary run for data amalgamation at one place to even estimate the performance of their star product. Companies can generate better returns by taking a product view of technology spending. It will help product managers as well as IT and finance in easy reallocations across products or portfolios.
• Develop shared accountability.
By making real-time data open to all and taking a product approach to technology spending creates a culture of transparency, which leads to joint accountability within the organization for tech spending. It motivates leaders across finance, IT, and business functions to adjust spending and cut costs (if necessary) without any conflict of interest. Thereby, freeing up funds and taking fund wastage to a minimum.
Case Study: The Potential of Transparency
A global airline firm implemented the three-step transparency strategy for digital transformation.
Objective: Executives at this airline wanted to know about how much they are spending on generating revenue in comparison to operational costs.
What they need? A process that helps them map technology budget to business goals. For instance, to evaluate spend and revenue from passenger experience, they could compare their investments in initial bookings from online check-ins and divert spending to whichever is leading to more business outcomes.
What they did? They used an ITFM software, which enabled departments to identify cost-saving opportunities. Finance and technology, for example, conducted benchmarking analysis (see figures below).
Challenges? Digital transformation is never just about the tool. It's a learning curve for the organization and its people. The journey includes training senior and mid-level leaders, figuring out a taxonomy for your company that best serves the customer, and extracting and detailing the right data.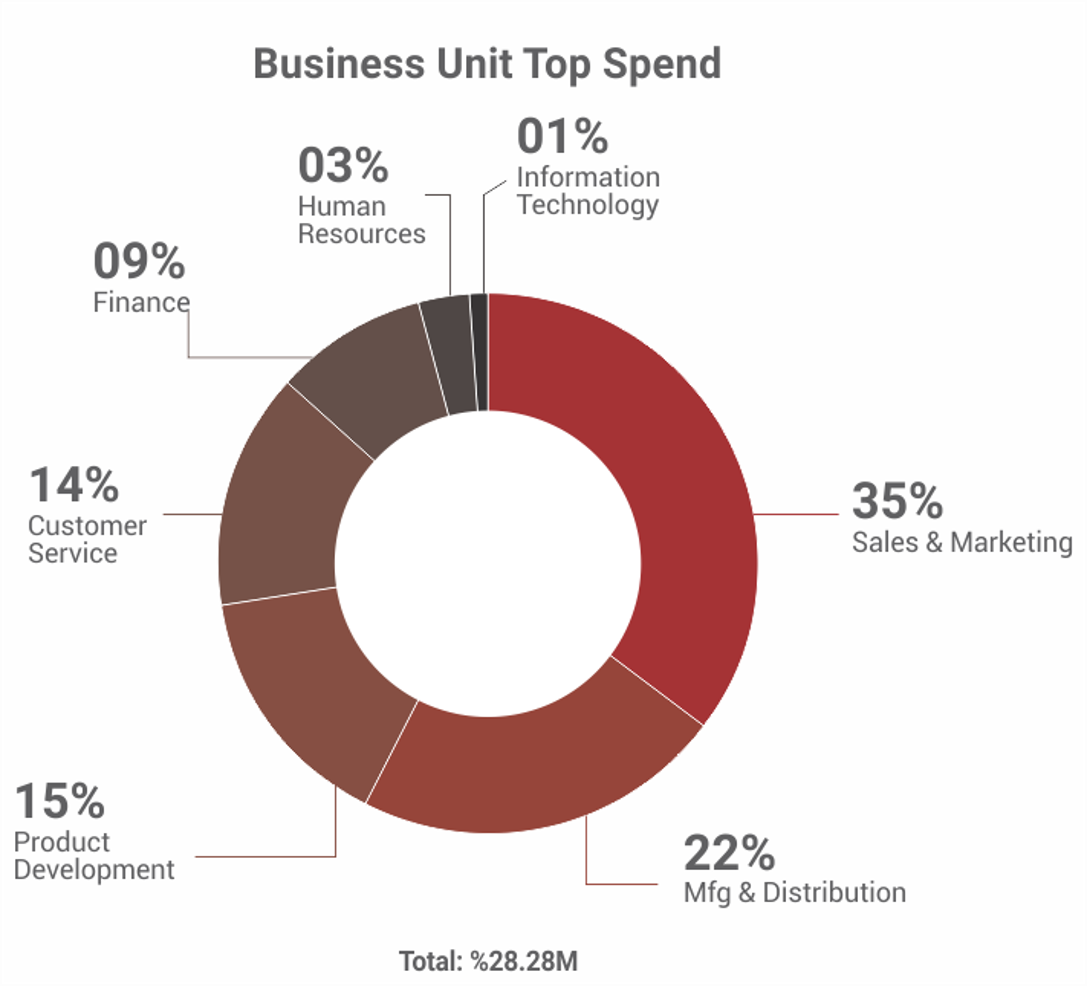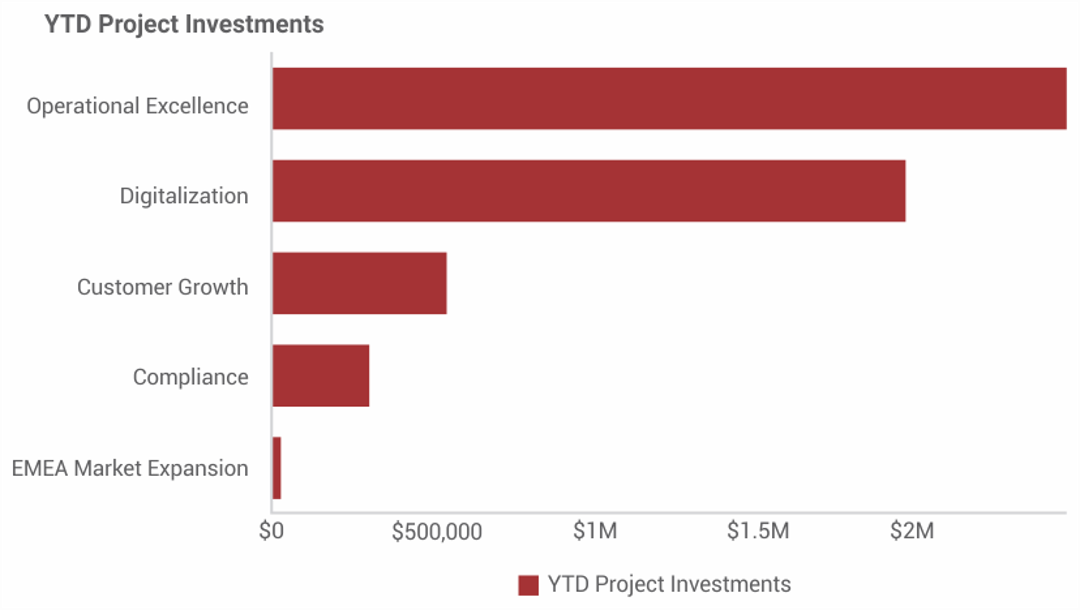 Figure: Technology Spending Broken Down by Business Unit (Bain & Company)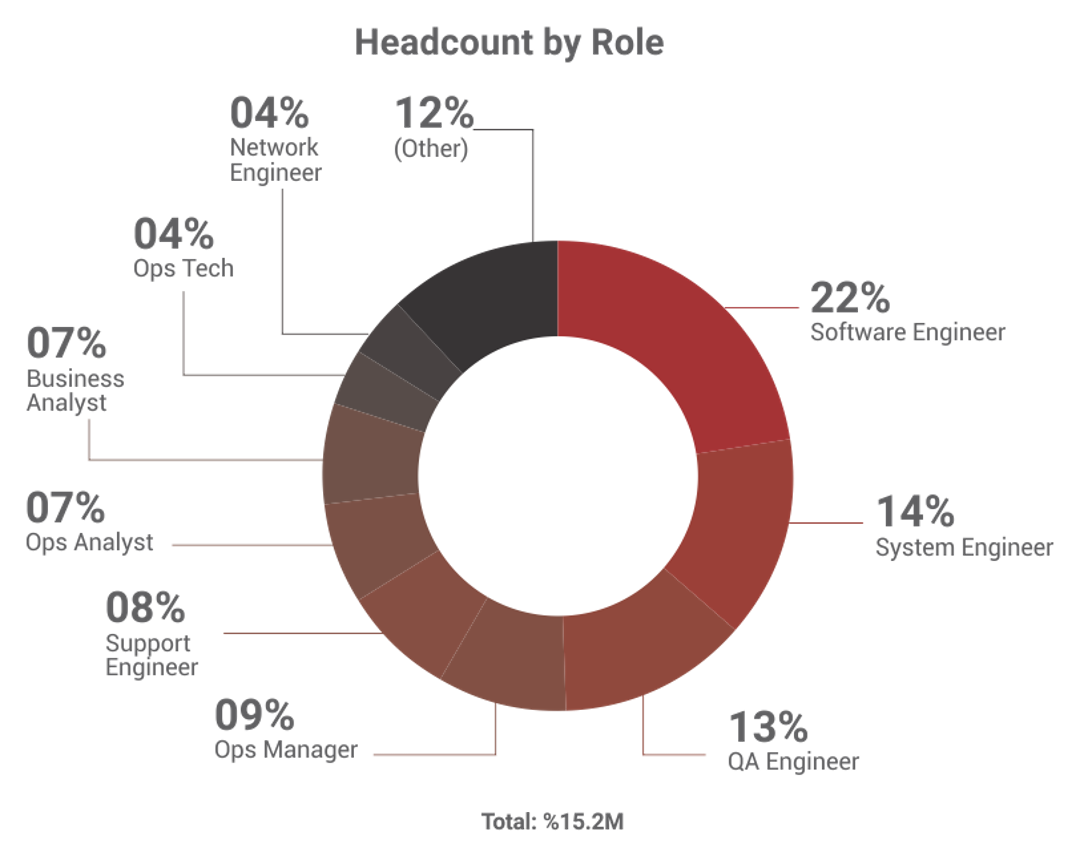 Figure: Labor Analysis (Bain & Company)
Recommendations for Business Strategists
Successful digital transformation begins at the top. Business strategists and consultants must garner leadership support and commitment for success. It's even truer for transparency since it influences people and systems across the company. The airline in the above case study also invested in training the CFO, CIO, and other leaders down to product managers to make it work.
Bringing this level of visibility is hard, and maintaining it is harder.

What you must do?
Reorient conversation within executive teams toward the role of transparency in digital transformation. This is where the first concrete step will be taken.

Develop talent and capabilities in senior leaders and top management for new digital technologies. More leaders can join the management.

Actively engage key leaders from individual units (IT, finance, business functions) who will be fully dedicated to change efforts.

Reiterate the goal of improving ROI with transparent technology spending.

Invest in the right architecture & tools and take time and resources to train people (and leaders) on them.
Transparency alone is not enough (see the other two mindsets described above), but it indeed is a significant first step in the right direction. It gives business leaders a better view of their spending and makes them more agile in decision-making.
Learn more success stories and strategies of digital disruptions on TSI Insights.