What is Business Strategy? Definition, Importance, Levels, and Examples
Business strategy is the battle plan for a better future.
- Patrick Dixon
Scaling up a business without a clear strategy is like captaining a ship without a rudder. The success of any business depends on the strategy that one follows. The business strategy establishes the needs of the business. Business strategy plays an important role for businesses of all sizes and entrepreneurs. It sets the direction of the organization and helps to create goals to aim towards.
What is Business Strategy?
Business strategy is defined as the course of action or set of decisions that support entrepreneurs in achieving certain business goals. It is a master plan that outlines the direction the organization intends to make, the actions it will undertake, and the resources it will give to attain certain competitive benefits and drive sustainable growth. It involves a combination of decisions, actions, and resource allocation that positions an organization in its industry or market.
Why is a Business Strategy important?
Business Strategy plays a crucial role in guiding a firm's growth, competitiveness, and success. It offers a roadmap for decision-making, resource providing, and adaptation to transforming circumstances, ensuring that the firm stays agile, focused, and well-prepared to achieve its goals successfully. It is carefully planned and flexibly designed with the purpose of:
Achieving effectiveness
Perceiving and utilizing opportunities
Mobilizing resources
Securing an advantageous position
Meeting the challenges and threats
Directing efforts, behavior and
Gaining command over the situation
What is the Difference between Business Strategy & Business Plan & Business Model
Business Strategy, Business Plan, and Business Model are three distinct elements that offer various purposes in the world of business. They are vital for the success and sustainability of a business, and they are interconnected, with slight changes which are often confused by several aspiring business strategists, especially during their interviews. Here's a breakdown of the important differences between these: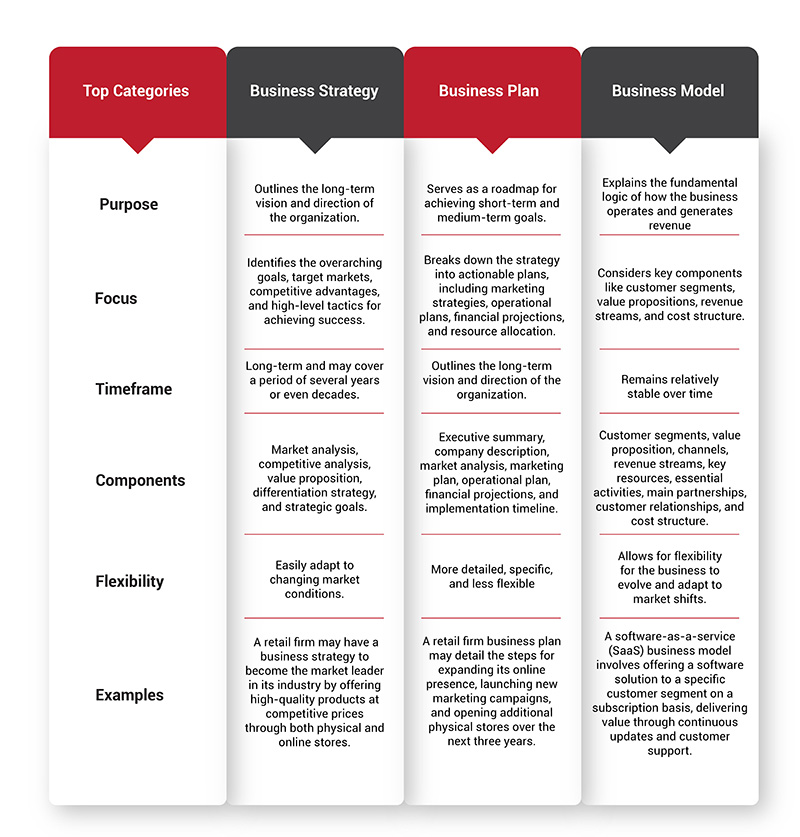 Levels of Business Strategy
Effective strategic management consists of coordination and alignment across various levels of strategy to achieve the organization's long-term goals and competitive advantage. Business strategy can be categorized into different levels depending on its scope, focus, and the organizational hierarchy at which it functions.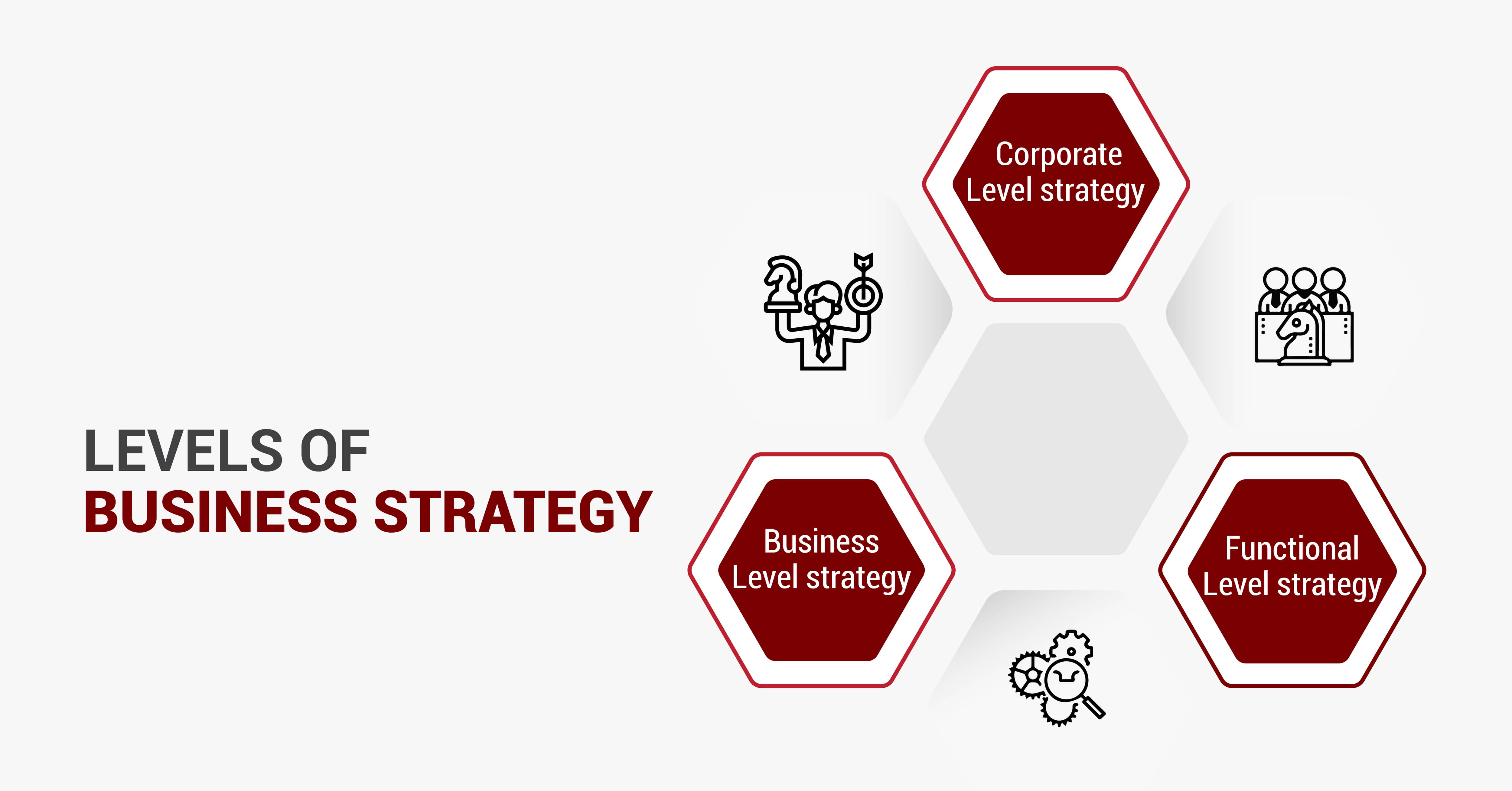 The three primary levels of business strategy are:
Corporate level strategy
Corporate level strategy is a long-range, action-oriented, integrated, and comprehensive plan, which is formulated by the top management of a company. It is very helpful to ascertain business lines, expansion, growth, takeovers and mergers, diversification, integration, and the latest fields for investment.
Business level strategy
The strategies that relate to a specific business are known as business-level strategies. It is developed by the general managers, who convert mission and vision into concrete, clear, and result-driven strategies. It acts like a blueprint for the total business.
Functional level strategy
Developed by the first-line managers or supervisors, the functional level strategy involves decision-making at the operational level concerning functional areas such as marketing, production, human resources, research and development, finance, and so on.
How to Implement a Successful Business Strategy?
A business strategist feels that it is tough to ideate any plan in a few hours. It requires a step-by-step procedure to be associated with completing a SWOT analysis. Here are the top steps that can be considered to build the best business strategies and execute them with precision:
Understand the targets
One of the clearest challenges for growth is poor targeting. Clear target markets offer an organization the ability to create an integrated sales and marketing approach, where marketing enables sales productivity. Sales and marketing business plan gets executed more efficiently if the targets are fixed in a proper way.
Outline the tactics
A successful business strategy is made up of several various tactics, including both online and offline options. The goals, target audience, and industry factor into this decision. For instance, if the target audience is young, focusing on social media is more beneficial as this is primarily where this group consumes content. If the industry is product-based (for instance, jewelry designing), then using a more visual platform would better showcase the products. To be most effective, one must choose which methods are right for the business. Once the selection of tactics is done, list them in the plan and determine how they'll help to reach the goals.
Think long term
In the scope of constant change, planning the horizons is usually shorter than it can be. However, only thinking quarter to quarter is a trap that may rob organizations of their ability to see around the bend. Best-in-class organizations create processes designed for a series of financial and non-financial metrics to treat strategy as an annual cycle rather than a one-time, static event.
Create a timeline
Time is precious mainly when it is about the business. Based on the goals and objectives one can set for the business. Creating a timeline that will define what tasks can be completed and when they can be completed. It is highly advisable to allocate extra time for unexpected events that may delay some of the goals.
Focus on growth
A thriving organization is a growing organization. It is only through growth that the firms can afford to invest in aspects such as technology, the best staff, and the latest tools. The business strategy should identify the segments where an organization will grow and in what proportion.
Have a budget plan
Creating a budget for the business strategy can inform the efforts by determining what can be done and cannot be. Choosing the most cost-effective options for the business ensures the success of the overall business strategy. This doesn't have to limit the options. Paid advertising on social media and search engines gives access to manage budgets well.
Make fact-based decisions
Several executives often complain about a lack of fruitful data, but they consistently find information that is useful in the formation of business strategy. The business has a set of values that guides it. Making fact-based decisions will outline the values and ensure that the people who interact with the business are aware of them. It will also ease the message that reflects on the brand honestly so it can actively demonstrate the values outlined in the mission statement through the interactions with clients.
Invest in pre-work
Always allocate time to do proper pre-work so that one can be up to date. It is better to conduct proper end-to-end research and prepare relevant information in advance of the business strategy meetings. The goals and needs will change over time. Ideally, it is important to revisit the business plan every annum to make adjustments as needed. Follow industry news and trends that can add to the existing strategy.
Execute well and measure results
Measuring the effectiveness of the business strategy will inform the current plan and future efforts. Always be sure to track and measure the business so these measurements are effective. Set up a corporate calendar to enhance the productive meetings, and also to form a performance management cycle. One should write the marketing plan with this growth in mind so they can measure it. The execution of strategic planning needs discipline, and it must be taken care of by the senior executives to promote processes that keep the team focused.
Examples of Business Strategy
Hubspot developed and executed a perfect business strategy where it created a market that didn't even exist – inbound marketing. It created an online resource guide explaining the limitations of interruption marketing and informing about the advantages of inbound marketing. The organizations even offered free courses to help the target audience understand its offering better.
Apple Inc. differentiated its Smartphone operating system iOS by making it simple as compared to Android. This differentiated it and built its followership. The organization has been following a similar business strategy for its other products as well.
Wrapping up
Establishing the business strategy keeps the business goals organized and focused, saving valuable time and money. With the increase in the competition, the demand for business strategy is becoming apparent and there is a tremendous increase in the types of business strategies used by the businesses.