Embedding Sustainability in Business Strategy
Business sustainability is a growing concern for strategists and investors alike, looking to blend economic profit and social good. Evidently, forward-thinking businesses have started to recognize its importance in the changing world. TSI discusses how focusing on sustainable development ensures the resilience of people, the planet, and prosperity.
Traditionally speaking, any business seeks precision and practicality as the basis for planning. Whereas sustainable development is a concept, that is fluid and changes over time in response to evolving priorities in society and increasing information. The contribution toward sustainable development is indefinite and varies by an organization's size and vertical.
"Shared value is not social responsibility, philanthropy, or sustainability, but a new way for companies to achieve success. Adopting sustainability as a business strategy will help organizations to achieve economic success"
- Michael E. Porter and Mark Kramer
So, let's start with the basic definition of sustainability and understand its core dimensions.
HOW DO WE DEFINE SUSTAINABILITY?
The concept of 'sustainable development' refers to the development that meets the current needs without compromising the ability of future generations to address their needs, as expressed by the World Commission on Environment and Development.
When we talk about sustainability in terms of business, it incorporates the environmental, social, and governance (ESG) dimensions for an organization's operations and performance. All exercises that can maintain or improve the organization's capabilities to create a long-term value are included here.
Synonyms for sustainable business strategy
Sustainable business

Environmental strategy

Social strategy

Sustainable business models

Corporate responsibility

Shared value creation

Sustainable value creation
Source: ResearchGate
Three core dimensions of a business sustainable strategy
Sustainable development is a long-term structural strategy to reduce the burden on the environment while maintaining social cohesion and economic growth. Ignoring any of these aspects would endanger success.
Environmental aspect: It refers to the ability to use natural resources without disturbing the ecological equilibrium.
Economic aspect: It refers to the efficiency of technological and economic activities that foster investment and productivity.
Social aspect: It refers to equality of opportunities for people, quality of life, welfare, and sustainable human development that ends poverty and secures life with full rights and liberties.
Having said all this, let us ponder over the question, why we need this in a business? What is the benefit? How can we see it in our business?
Benefits of sustainable strategy
Sustainability is increasingly becoming a part of the business bottom line. Many players in the industry are now publishing integrated annual reports by combining environmental, social, and financial data.
For instance, take a look at the collection of ESG reports of Apple and ING.
A few of the benefits include:
Increased knowledge and understanding of risks and opportunities

Highlighting the link between financial and non-financial performance

Inducing the management strategy, policy, and business plans

Streamlining processes, improving efficiency, and reducing costs

Assessing and benchmarking sustainability performance

Avoiding ESG failures, improving brand loyalty, and reputation

Understanding organization's true value, tangible, and intangible assets
Deloitte's global survey findings show the positive returns that business leaders are attributing to their organization's sustainability efforts.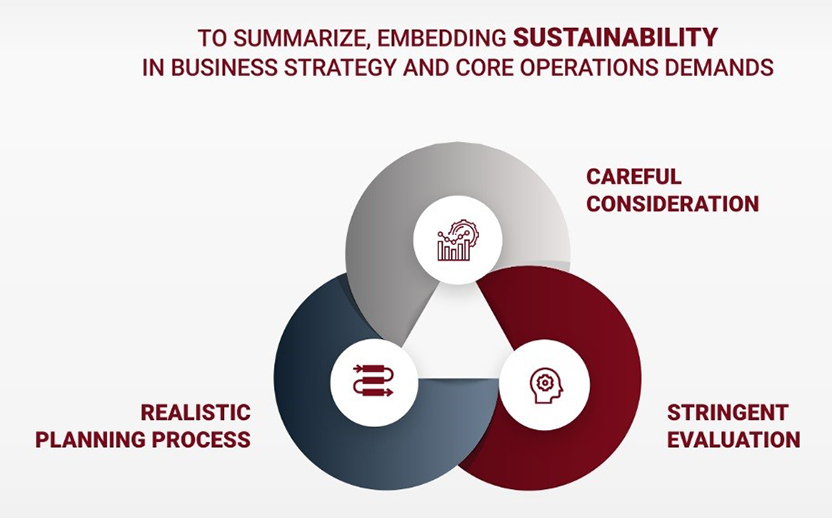 Embedding sustainable strategy in business strategy: Action plans for business strategists
The most tangible action business strategists can take is to evaluate sustainability objectives inherent in the strategy and incorporate the cascading indications into business plans and operations. It should start with a clear intent and a compelling aspiration toward the integrated goals of the organization.
Deloitte StrategybyDesign™ methodology outlines the actions as follows:
Action Plan 1: Review current strategies
Answer these questions to develop a crystal-clear expression of the corporate and sustainable strategies:
Are your organization and its sustainability strategies aligned?

What is the degree of conflict and tension with one another?

Are your actions consistent with the strategies?

Have you conducted a 'stress test' for existing sustainability strategy?

What is your current social license to operate with key stakeholders?

Is your strategy dynamic?
Answers to these questions help to:
Get an integrated view for board members on current strategy and degree of embedment of sustainability in core businesses

Identify strategic tensions and gaps in embedding sustainability in core businesses
Action Plan 2: Develop strategic options
Answer these questions to develop business strategies and translate them into actionable strategies
Where and how can you protect and improve business resilience?

Where are you positioned to capture a competitive advantage?

How can you deal with uncertainty?

How should you balance short-term performance with long-term value creation and sustainability?

How should you prepare for the unknown future?
Answers to these questions help to:
Improve sustainability and business model impact

Define the set of prioritized and actionable strategic choices
Action Plan 3: Integrate strategy deployment
Answer these questions to determine and develop effective actions, communication plans, and witness success.
How can you embed sustainability in core business operations?

How prepared is the organization for transformation?

How should you track performance against strategy?

What is the order of priority for strategic choices?

How can you measure the impact and integrate reporting?

How should you communicate strategy to business and stakeholders?
Answers to these questions help to:
Translate new strategy into a realistic roadmap

Understand organizational readiness, processes, and management systems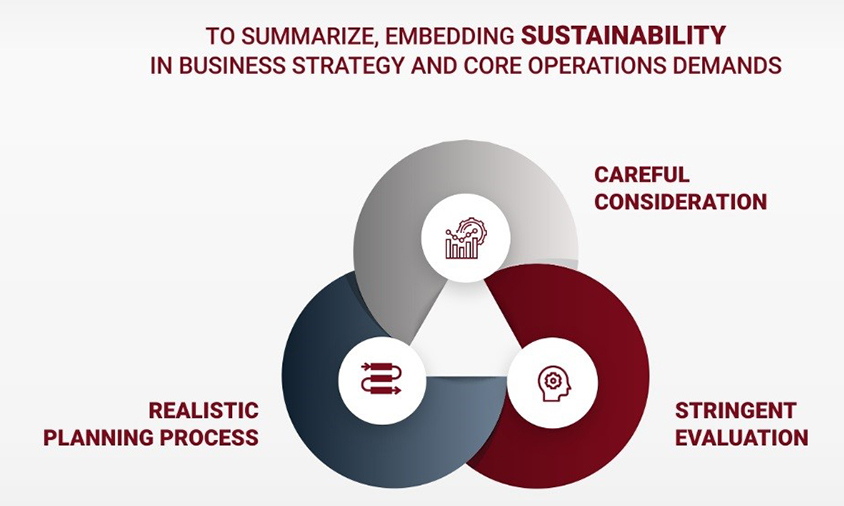 The future prospects
The awareness of environmental and social problems and their role in businesses is becoming higher than ever before. Sustainability is an everyday jargon in most business contexts and sustainability aims must get integrated into innovation targets. For further progress, adapting to wider systems with broad mindsets is needed.
How does The Strategy Institute help in this regard?
The Strategy Institute provides business strategy certifications for strategists to gain a demonstrated ability and promise for leadership in the immediate future. Leverage our business strategy certifications and compete your way to the top by submitting a flawless sustainable strategy for your organization.